News
Slot machine Temple of Tut from Microgaming Review
Temple of Tut slot from Microgaming is a game inspired by the Egyptian god of wisdom and knowledge Tutankhamun. The main characters of the slot are tomb robbers who will face difficulties in finding precious artifacts.
An experienced archaeologist and his two assistants will go on an adventure in which the main prizes will be bonus games Super Reels and Free Spins with huge payouts!
Temple of Tut slot is adapted for both desktop and mobile devices. You can run it today at ShangriLaLive online casino from any device, anywhere.
The Temple of Tutankhamun: main features
The playing field of the slot is designed using the common features of Ancient Egypt. A scarab is depicted at the top of each coil; over the side pillars - rhombuses. When Super Reels is activated, some of the scarabs will light up to indicate which reels are in play. During free spins, hieroglyphs light up on the pillars.
The game is accompanied by an adventurous soundtrack that boils players' blood at key moments.
The reels are spun next to Egyptian artifacts. The symbols are usually stacked on a single reel, which provides large payouts.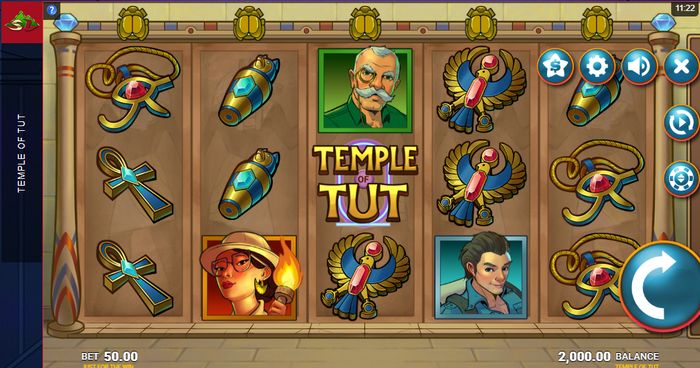 Temple of Tutankhamun: Settings
Number of reels: 5
Number of rows: 3
Number of cells: 15
10 active paylines
Bet per round: 10 coins
Coin sizes: 0.01 to 25
Betting amount per round: from 0.1 to 250 credits
No jackpot
One wild symbol
Single scatter
Free spins
Volatility: medium
RTP = 96.01%
Coefficients: Up to x25
Maximum winnings: 62 500 coins
Winning combinations are formed from the same symbols. Combo combinations are formed either from the first or from the last reel. One rotation can bring several winning combinations, each of which will be paid out.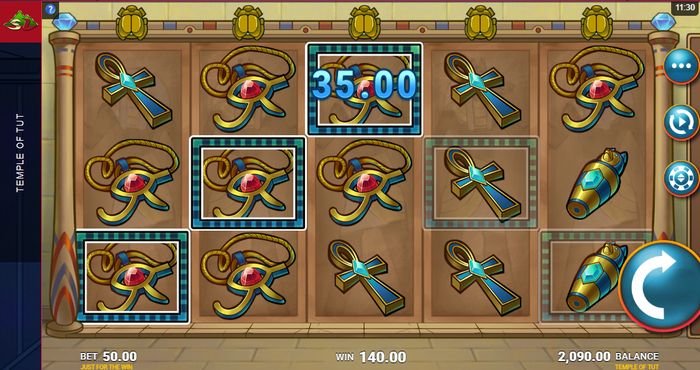 Payouts are calculated based on the bet amount and odds: from x0.5 to x25. The numbers are multiplied, and the payouts of symbols are summed up.
The Temple of Tutankhamun: Symbols
The temple of Tutankhamun has two sets of symbols:
Standard characters have minor and major. Above are the main characters of the slot.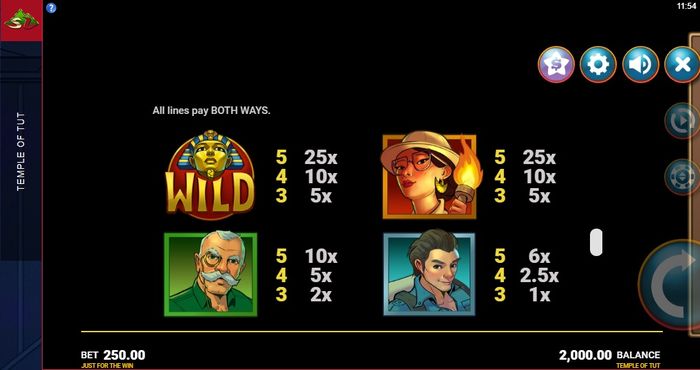 The lower symbols of the Temple of Tutankhamun are artifacts in the form of a cross, an eagle, an eye and an urn.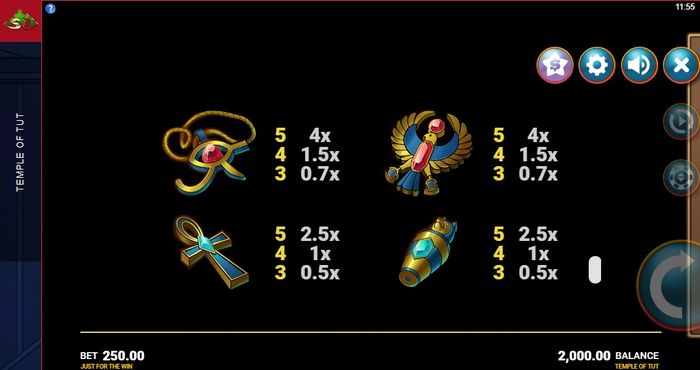 Now for the bonus symbols:
Wild (pharaoh mask) - independently forms a combo and replaces other symbols.
Scatter (Temple of Tut logo) - launches free spins. Free spins start with at least 3 scatters, not necessarily in combination.
Temple of Tut: Bonus Games
Microgaming's Temple of Tut has 2 bonus games that make the game more exciting and dynamic.
Super drums can be activated during any spin. The essence of the chip is that from 1 to 5 reels can become very profitable. They will have an increased chance of wild symbols falling out, which significantly increases the chance of winning.
Free spins are triggered by a combination of scatters:
3 scatters trigger 8 free spins;
4 scatters trigger 15 free spins;
5 scatters trigger 20 free spins.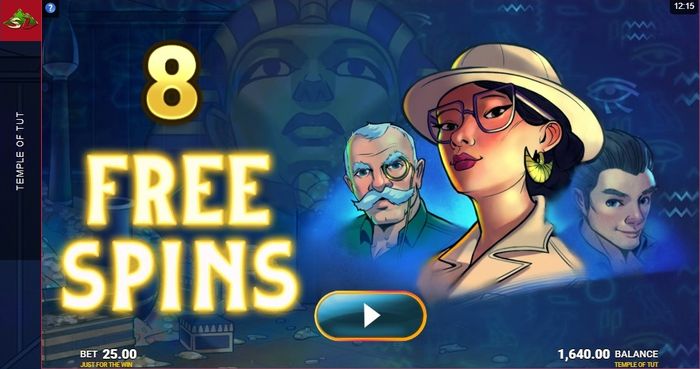 Super Reels is activated during each free spin. The last ones are prolonged if 2 or more scatters appear on the reels:
2 scatters - +2 free spins;
3 scatters - +8 free spins;
3 scatters - +15 free spins;
5 scatters - +30 free spins.
Such a waterfall of spins always brings huge payouts!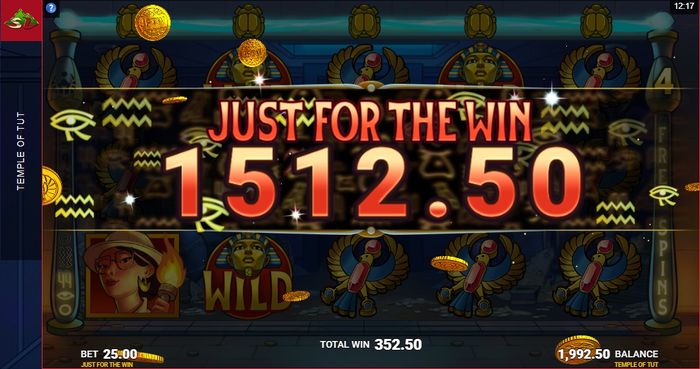 Unfortunately, this slot does not have the much coveted progressive jackpot.
Where to play Temple of Tut slot?
It is better to play Temple of Tut on a licensed platform working with Microgmaing. That way, winnings and honesty are guaranteed.
ShangriLaLive online casino offers a licensed version of Temple of Tut slot, where every new player has the chance to double their deposit and occasionally receive free spins .
The Temple of Tut Slot post from Microgaming Review first appeared in the online gambling news - Sports & Casino Betting.
Professional casino player with over 10 years of experience, expert in online gambling.
I'll tell you how to enjoy your time gambling and make money on it. I am sharing the secrets of a successful and safe game, and I am telling you about the tricks of slot machines.